DUCTED AIR CONDITIONERS
These ducted air conditioners are designed for commercial and industrial appliance including fan coil model PFD (vertical) and PHD (horizontal) with condensing unit model PC.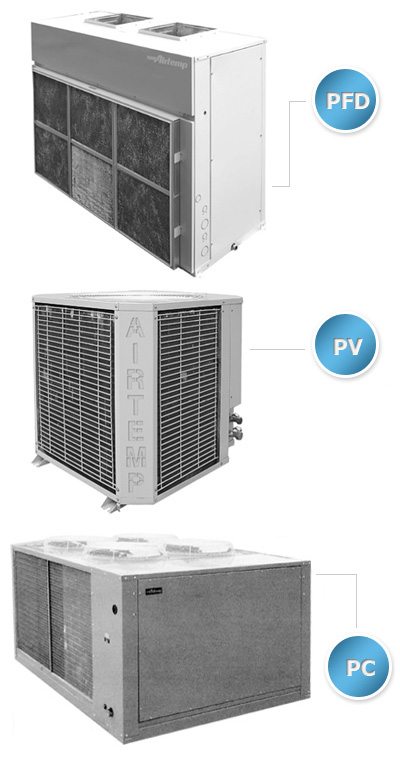 FEATURES
CONDENSING UNIT
Hermetic sealed scroll compressor are available in models PV06Z to PV10Z and PC12Z to PC60Z
Semi-hermetic reciprocating compressor are available in models PC70-02 to PC80-02.
Magnetic contactor.
High and low pressure switch.
Holding charged with N2.
Fully charged for PV06Z.
FAN COIL UNIT
Heavily zinc coated galvanized steel cabinet.
Permanent and washable air filter.
Motor with a set of variable pitch diameter pulleys.
Blower are belt driven by induction motor.
Thermally and acoustically insulated.
Thermostatic expansion valve.
OPTIONAL COMPONENTS
CONDENSING UNIT
Under and over voltage protection.
Copper Fins.
Liquid and suction valve.
R22, 407c, 410a
FAN COIL UNIT
Chilled water coil.
Micro processor control unit.
Motor contactor.
SPECIFICATIONS