VERTICAL WATER COOLED SINGLE PACKAGED AIR CONDITIONERS
These water cooled single packaged air conditioners offers a wide range of commercial and industrial applications. They can be used as either free blow unit or ductwork type.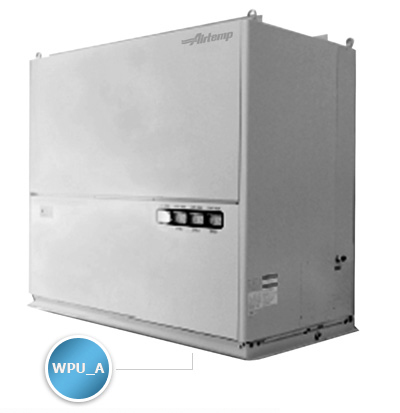 FEATURES
Hermetic sealed scroll compressor.
Evaporator coil is plate fin bonded with plain or inner groove copper tubes.
Double inlet centrifugal fan.
Air filter are permanent and washable.
Wired remote controller.
Thermostatic expansion valve / Capillary tube.
High and low pressure switch.
Filter drier.
Factory test run and fully charged with R-22.
Tube in tube condenser type for WPU model.
Shell and tube condenser type for WPU_A model.
OPTIONAL COMPONENTS
Flow switch.
24V control circuit (WPU model).
Semi-hermetic compressor.
Shell and tubes condenser.
Hot water heating coils.
Pressure gauges.
Electric reheater.
R407c, 410a.
SPECIFICATIONS